Ask and you shall receive! Several of you expressed interest in a blog post rounding up some of the cutest spring tops under $40.
As spring is a little late in coming this year, you might be wondering why I'm still posting this. Well, I am all about versatility so some of these choices will be perfect transition pieces for spring into summer!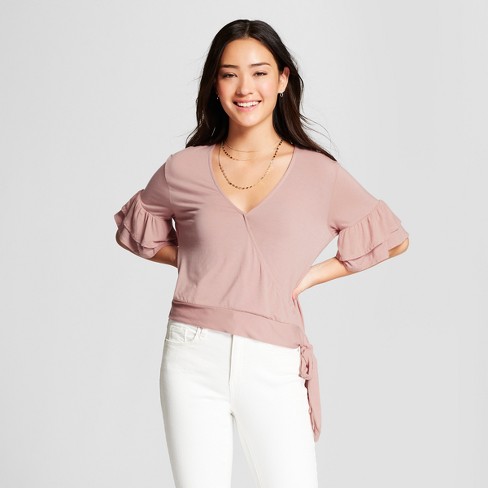 Xhiliration- Solid Ruffle Sleeve Wrap Top
This first top is absolutely perfect now that the warmer temperatures are kicking in! Pair it with white jeans and some wedges and it is perfect for a classy outing to the wineries. Or you can throw on a cute cardigan for a dinner date. As you all may know, bell sleeves are totally in and the sleeves on this top add just the right touch of fun and flirty to the whole look!
Kamala Button Down Twist Front Blouse
This sky blue twist front blouse looks like it's made from clouds! The reviews say that it's light and airy which means it will be a perfect transition piece for summer. I love how loose it looks in the front for that comfy-casual look. The color is perfect for this time of year, too!
Charlotte Russe Crochet-Trim Off-The Shoulder Top
Does anyone else love wearing white in the summertime? I love how the color gives everyone an instant sun-kissed tan! Show off your shoulders in this cute little top. Aren't the lace detailing on the cuffs adorable?! Sign me up please!
Lucky Brand Chunky Short Cardigan
This time of year is that awkward time where it's chilly in the mornings and then warm or even hot in this afternoons.  Does anyone else have no idea how to dress? Because I sure don't! I feel as if I should be going home midday just to change. Well, I can tell you that this cardigan is perfect for this transition between the cooler evening temperatures and warm summer days! It is thin enough to wear under a jacket and warm enough to wear over a tank.
Okay, so fun fact about me: I am not the best at layering my outfits. I seriously look to Pinterest for inspiration sometimes. Well, I can definitely say that this camisole is absolutely PERFECT for layering especially under a cardigan or blazer.  This top is available at Nordstrom stores in blue, brown, white, and pink! As I promised, this top is under $40.
I love the trend of oversized sweaters, don't you? I have a found a few bralettes that would be perfect under this top! When I think about slouchy sweaters, I think about bonfires and good friends. This sweater would be perfect for every season and is definitely worth it!
Gibson Twist-Front Sweater Pullover
Some of my favorite bloggers have been sporting twisted tops such as this one! The material is thin and lightweight and a perfect transition piece from spring to summer. You can also wear this top during the chilly fall evenings.
Cotton Emporium Cotton Emporium Knot Back Sweater
Are any of you fans of twist top sweaters? I find them darling! This top is perfect with a bralette and it just looks so cozy. The color reminds me of storm clouds. I'll definitely be bringing this beauty on my beach vacation in a month. It'll be perfect with a pair of cut off shorts and bare feet in the sand.
And there you have it, loves! These tops are all under $40 and they are all adorable. Apart from more fancy events, these tops are versatile and work for every possible occasion this summer. From winery dates to bonfires, and walking on the beach, these are the cutest spring tops under $40 for fashion and comfort this spring and summer!
Related Post: Spring 2018 Style Trends
*Affiliate Disclosure: Some of the links on this page are affiliate links. This means that at no additional cost to you, I will earn a commission, if you click through and make a purchase. I want these recommendations and reviews to be useful to you so I only recommend products or services that I personally believe will add value to you!*